South Africa - Participating in the 'Roots Fees', a cultural festival organised by University of Wes-Kaapland in Belville.

Israel - Touring jazz-clubs in Israel with her band.
Speransa - Fifth album of Izaline, cd-presentation on May 1, Paard van Troje, Den Haag. CD-presentations in Curaçao and Aruba in September.

•
PICTURES »

United Nations - Accompanied by guitarplayer Nile Rodgers, Izaline sings at the concert for the annual International Day of Remembrance of the Victims of Slavery and the Atlantic Slave Trade. The event takes place in the General Assembly Hall in the UN-building in New York.
• PICTURES »
• YOUTUBE »

'Verhalen voor een warme lentenacht' - Based on old stories from different countries, Izaline writes the songs that put up this musical theatershow with actor and storyteller Raymi Sambo. Directed by Leoni Jansen.
• PICTURES »

With Toumani Diabate in Mali - Invited by foundation 'Mundial' Izaline gives and gets workshops in Mali, resulting in a concert with Toumani Diabate and his Symmetric Orchestra and a meeting with singer Oumou Sangare.
• PICTURES »

---

2008

---
'Aña di Kultura' - The government of Curaçao announced 2009 to be Year of Culture. Izaline was assigned to compose the theme-song for the event that opens on Brionplein, at New Year's Eve with the first live performance of the song 'Nos Kultura, Ban Selebré'.



Suriname-tour - Live in Paramaribo with the Izaline Calister-trio, for liturature festival 'Winternachten'

Gerard van Maasakkers - Izaline is invited by Dutch singer Gerard van Maasakkers to sing on his cd 'Anders', with o.a. Stevie Ann.

Ricciotti-ensemble - Adventure with this symphonic street-guerilla-orchestra. 63 performancies in 25 days in Aruba, Curaçao and The Netherlands.
• PICTURES »

'Palabra' - Izaline put together a theatershow in honour of Antillian artist/ musician/ poet Elis Juliana.
• PICTURES »

'Izaline Calister - Lady Sings The Tambú' - Documentary-film about Izaline and her music. The film is made by director Miluska Rosalina and screens on festivals in Surnam, Miami, Aruba, Curaçao, Denmark and Barbados.

---

2007

---
Nederlands Filmfestival - Documentary 'Izaline Calister - Lady Sings The Tambú' premieres at Dutch Film Festival.

Changá! - Tour on Curaçao and Aruba with theater-show. With (amongst others) Reymi Sambo, Helen Kamperveen and member of parliament Mark Rutte, direction John Leerdam. Pictures.

USA-tour - Series of concerts in New York. Review (Dutch) on Volkskrant blog.

Benefitconcerts on Curaçao - With the musical greats of the isle for orphanage GOG.

'Bevrijdingsdagconcert' - Accompanied by the Metropole Orkest in Amsterdam, live televised for national TV. HRH Queen Beatrix attended. See recording at NOS-site.

Singing stories - Touring different countries in a project for liturature-festival 'Winternachten'.
• PICTURES »

---

2006
---
With the Peter Beetstrio - Touring Dutch theatres with Gershwin's Porgy and Bess-repertoire.
• PICTURES »

Concerts with the Metropole Orchestra - Izaline sings with strings. Project with the entire orchestra, produced by Jazz-agency Impuls.
• PICTURES »

Hélele-tour Aruba/Curaçao - Series of concerts on the isles of the Dutch Antilles, presenting the newest cd Kanta Hélele.
• PICTURES »

Kanta Hélele - Recording and release of fourth cd, 'Kanta Hélele' (Sing Hélele). DETAILS.

Workshops - Giving workshops for the Rotterdam Conservatory

Kazachstan Jazz-festival - Three-day tour with Roy Dackus (drm), Jesse van Ruller (gt), Karel Boehlee (pno) and Theo de Jong (bass).

---

2005

---
Playing with Toots Tielemans - In a Christmas-concert with the Jazzorchestra of the Concertgebouw, Izaline shared the stage with the great Belgian harmonica-player.
• PICTURES »

Cubop City Bigband - Tour with the latin band, together with good friend and singer Lilian Vieira.

Mexico-tour - A three-week-tour all over the Mexican country, with the Izaline Calister band, presenting KRIOYO to a whole new audience. With recordings for BBC tv-show 'Destination Music'.

Gospel cross-over - Izaline performed on the biggest gospel-festival in The Netherlands with adaptations of original Antillean repertoire.

Tour in Africa - With Ethiopian singer Minyeshu.
• PICTURES »

Duo Conversations - Series of concerts with Randal Corsen, piano.

Krioyo theatre-tour - Touring some 40 theatres in The Netherlands with the 8-piece IC-band. 'Sharing the joy of Antillean music.'

---

2004

---
Celebration-concerts for the 'Statuut' - Invited by the departments of Culture and Home Affairs to celebrate the 50th anniversary of the 'Statuut van de Nederlandse Antillen en Aruba', Izaline performed on Aruba, Curaçao and in a TV-show in the 'Ridderzaal', The Hague.

Singing for the queen - At the televised presentation of the new Dutch bible-translation, singing the Lord's Prayer in Papiamentu ('Nos Tata'), attended by Her Majesty Queen Beatrix.


| | |
| --- | --- |
| | Antillean tour - Concerts with own band on the Dutch Antilles. First time live on Aruba! |

Guestperformance with 'Tumbabo' - At North Sea Jazz Festival accompanied by the fantastic orchestra of band-leader Randal Corsen.

Krioyo - Third cd of the Izaline Calister band, this time extended with string-quartet 'Strings Unlimited'.


She got game too - Together with six great fellow vocalists and theater personalities, Izaline performs in a show filled with music, dance and laughter.

Pili Pili best of-tour - Germany- tour to celebrate the 20th birthday of the band led by 'tastenderwisch' Jasper van 't Hof.

'Amsterdamse Kracht' - Composition and performance for the New-Years Party of the municipality of Amsterdam.

---

2003

---
Project 'Kanta Konsiente' (= Conscious Singing) - Invited by cultural foundation 'Kas di Kultura' in Curaçao Izaline gave a series of lectures and workshops for schools and choirs. For this project she wrote a syllabus on singing technique and a booklet, called 'Na Paradera' about 'seú', one of many traditional music-styles of Curaçao.

Made in Holland - Musical project that involves the talents of 45 musicians and singers of many different nationalities. Participants are e.g. Edsilia Rombley (Neth. Antilles), Twarres (NL) and Fernando Lameiriñas (Portugal). Made in Holland is artistically supervised by Leoni Jansen.

Summerfestiaval-tour with IC-band in Ireland, Italy and holland.

Vagina Monologues - Izaline was invited to join the cast of the Dutch version of the famous 'Vagina Monologues' by Eve Ensler.

She got game too - Initial tour of the theater-show.

---

2002

---
Mariposa - Second album of the IC-band.
Nominated for the Edison-awards 2003.


Jazzorchestra of the Concertgebouw

Duo with Randal Corsen, piano

Juffrouw Kokolishi's bruiloft - Theatre-show for children that toured the Dutch theaters.

Noord Nederlands Orkest - Open-air Concert with this symphonic orchestra. Izaline was very happy to be surrounded by so many violins.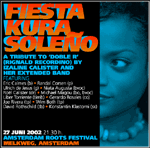 Fiesta Kurasoleño - Izaline put together this band with extended horn-section to give tribute to the wonderful music of one of the greatest composers in Curaçao, Rignald Recordino, better known as Doble R.

Theatre-tour in 25 Dutch theatres with IC-band

---

2001

---
Michiel Borstlap's Vocal 2001 - Special project with piano player Michiel Borstlap. Joined by singers Deborah Carter and Wies Ingwersen Izaline performed with this great trio in Dutch theaters.

Tour through Guatemala, Mexico, Honduras with the small accoustic line-up of the Izaline Calister band.

Tumba festival 2001- Izaline was chosen 'Tumba Queen' of this years carnival performing the song 'Mucha di Otrabanda' better known as 'Sa sa na awasa'.

---

2000

---
Jamesz - Highly original jazz-trio with a very distinctive own mixture of jazz, funk and worldmusic. Their second release 'Fatuh' features lyrics by Izaline (Tibaldinho).


Soño di un muhé
- First album of IC-band. The cd-presentation in Curaçao resulted in a number 1 position in the local top 40. It was the first time a jazz-album stirred so much commotion in the top 40 of Izaline's native island. Momentous presentation in the BIM-huis, Amsterdam. Raving reviews (Dutch) and a great deal of publicity followed.
---

1999

---
Michiel Borstlap's Temple of Dance - special project with piano-player Michiel Borstlap. The importance of being free was translated into groovy dance music. No rehearsal's, no commitments, no boundaries. Just playing, listening, reacting and having fun. With this project Izaline performed in New York city.

---

1998

---
The Izaline Calister Band - Izaline puts together her band out of talented musicians, hailing from Curaçao. This formation accompanies Izaline on five cd-releases (and counting!).

Conservatory graduation - Performing a fascinating concert with a wide variety of music Izaline graduated in Groningen (NL).

---

1997

---
Grupo Zamanakitoki - Invited by bass-player Eric Calmes, Izaline re-started singing in Papiamento. The band could well be considered as the cradle of Izaline's current style of music.

Aquarela do Brasil - In 1996 Izaline started playing Brazilian songs with guitar-player Rob Elfrink, which eventually ended up in this full-manned formation.

Dissidenten - German world-music formation, founded in 1981. Izaline sang with them for three years.

---

1996

---
Pili Pili - With this formation led by Jasper van 't Hof, Izaline started touring internationally.

Duo with Rob Elfrink - Still every now and then Rob and Izaline play at small jazz-clubs bringing their original adaptations of Brazilian evergreens, jazz-standards and some good old Curaçao waltzes.
---

1995 and before

---
Deco Deco - Starting as backing vocal, before being lead-vocalist, Izaline joined this successful local band. It played Caribbean music (soca, calypso, zouk) in a characteristic style.

Grupo Forsa - Student choir. Izaline sang with sister and friends old and new songs from Curaçao.

Perlitas - Children's choire on Curaçao, led by composer Rudy Plaate.